What Jane Did Next…
Dear friends, it's another beautiful, no a stunning morning here. I have some time to myself and as usual a lot of things I want to do with that time, starting here with this post.
As you know I've been in the horrors lately, life has been tough to say the least. And as you further know I have my 'Creativity Bootcamp' starting tomorrow, Thursday the 1st of October, one whole month of daily creating.
Last week I set up a FB group for bootcamp participants and since that day life has brightened again, my bliss has been quietly thinking and dreaming of what I will do.
So I' planning a number of things I've never done before with a particular focus on things that I think about a lot but scare me in some way, things I've been putting off endlessly. That way, when I come back to editing my novel in November I can put these things away, for a while at least…
They include but may not be limited to…
Four paintings – to include the canvasses I've now had for a year
One mixed media piece/collage – I have no idea or clue how or what, it's just another thing I've been thinking about for years and would like to try.
I've never painted on canvas before so that feels scary to me. These will also be the largest paintings I've ever done, another fear but deep desire, to paint and paint large scale.
My head is always full of painting, I dream about it. In my dream the canvas is endless and I'm the brush, or am I the paint? My dreams are usually nightmares but this one is a very nice, very sensual dream. I think painting bothers me because I need all the spare time I can get for writing, because life is too short to do all the things we want to do…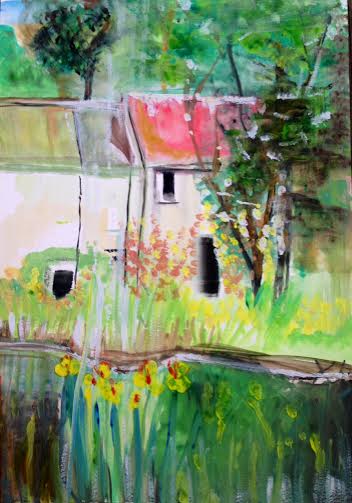 The great thing about bootcamp is it gives focus and permission to do these things, motivation, inspiration, discipline, whatever it is that you need. Because for some reason we are bad at doing the things we want to do, even when we have time. We are awful like that but we are brilliant in the limitlessness, of our imaginations, do you ever think about that?
And I'm tired of being tired, and miserable and flattened by things. Aren't you? So this October I'm giving my imagination and creativity, free reign through bootcamp.
Do I ever feel foolish about it all? Sometimes I have, yes. Do I wonder what the point of all this is? Yes, yes! Do I get attacked by negative voices? Of course!
But for some reason I can't explain I not only want but feel I have to do these things. Since making creativity central in my life I have to create everyday or go mad. I dread to think what I'd be like had I not sold my soul to art.
Mihaly Csikszentmihalyi says being creative is the only true happiness for adults, I agree. Because it is not thinking or being good at a thing, it is losing and finding yourself, it is interest and passion and freedom, it is transcendent…
A 'large' 'blank' 'canvas' plus a painting from earlier this week, framed and hanging for inspiration. These walls look too bare to me, better get painting...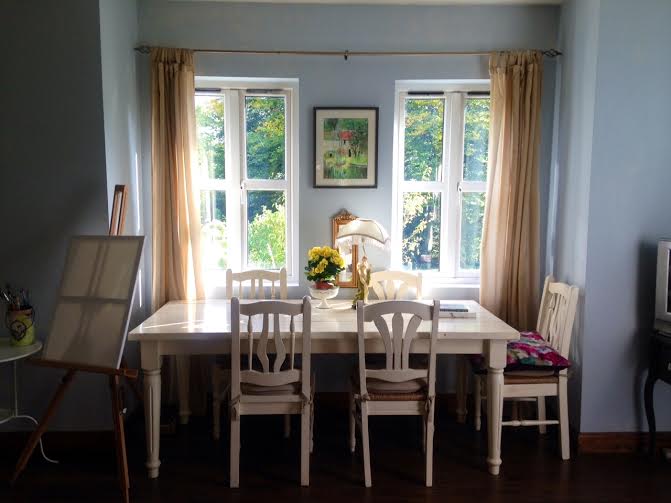 Writing – Journaling, Poetry, Short Stories/Flash Fiction…
Journaling
I'm going to journal two ways. The first will be detailed observational combined with stream of consciousness writing. I'll start by noting sights and sounds, scents and feelings before letting my subconscious take over. An Annie Dillard/Anais Nin/James Joyce mash up if you will 🙂
The second journal will be a daily record of everyday life, May Sarton inspired, because that's how I roll, aiming high.
I plan to weave art into both journals, because that's new for me, painting, sketches, doodles etc Read more about art journaling HERE
I started keeping a journal this year but for bootcamp I'll be writing daily and in a much more purposeful way.
These are my notebooks, I'm using the large white one for journaling, starting at each end, the smaller one is for random notes…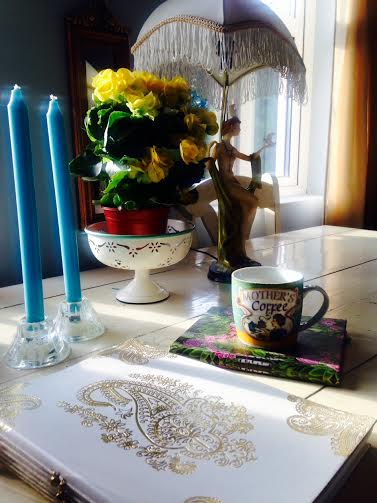 2. Poetry
I've been in poetic mood of late, as you will have noticed here and on FB. I've always loved and dabbled in poems and this month I'm committing to writing four new poems – one for each week in October because I want to write more poetry, simple as that.
3. Short Stories/Flash Fiction
This is the scariest one for me because while poetry has always been part of my life and it's a year since I started painting, I've only attempted a short story/flash fiction piece twice, eek! The fear of the unknown. Again I'm aiming to write four stories – one for each week in October. I'm doing this because it's new to me, is a challenge, and will help my writing.
Aside from all of this I intend to blog once a week, keep up the FB page, be present in the bootcamp FB group, and take plenty of photographs.
It's going to be busy, it's going to be great!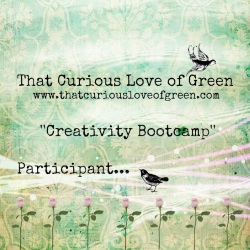 If you want to take part there's still time, hurry!
I know it's scary but everyone in there is scared of some aspect of it, everyone is dealing with big life challenges, everyone is nervous about sharing their work.
If you want to do these things you have to deal with the fear, we all have to do that. But this challenge is a unique opportunity to be with and learn from supportive, encouraging, inspiring people who not only do the things you want to do, or already do, but who think and feel like you, and we all know that's not something you find everyday.
Plus the atmosphere in the group is already electric, I'm telling you, we could power a city with it.
One last time, here's all you need to know and do…
As a minimum, keep a daily journal for the month, write in it everyday. It's private, for your eyes only, but you can discuss process and hear other peoples experiences in the group. If possible do at least one other thing of your choosing, that might be photography, sketching, knitting, colouring, writing a book, starting a blog, it's up to you, and share that with the group. That's all there is to it.
xo Jane
---
---