Why I Entertain
I've been thinking about this lately because I was asked by a friend why I do it. Why, why, why in the name of all that's divine she asked me do I put myself to the bother and work of entertaining? She's right it is work but we were lying back in the sunshine, eating and drinking cocktails at the time which probably sounds like an answer.
Well let me just tell you about the great week in food and entertaining I've had. On Saturday last I was a lady who lunched with my sister Martha at the award winning restaurant and pub 'The Oarsman' in Carrick on Shannon. The location, the company, the service and the food were just right, it was the perfect lunch date. I've been dreaming about the duck spring roll ever since.
On Monday I'd arranged for a casual lunch/play date with friend and regular partner in entertaining, Caoilfhionn and children. This occasion was a simple affair. On the menu…
Caprese Salad (Tomato & Mozzarella with Basil, Oil & Balsamic Vinegar), Foccacia Bread with Olives, Mixed Bean Salad with Celery & a Tomato Chutney Dressing (2 heaped tbsp of tomato chutney, a splash of red wine vinegar, a splash of extra virgin olive oil, salt & pepper) plus Croissants for the children.
Our children are the same ages and we've become fairly regular with our food dates so could better take in stride the fact/frustration that we were up and down like yo-yo's from the table every few minutes to one child or other. I don't think we managed to finish many sentences and after chasing the children around the garden and away from the newly set flower beds and giant thistles I ended up eating lunch in my wellies. But it was still fun, it was still lovely, and after a while the children settled down, we moved outside in the sun and all was easy.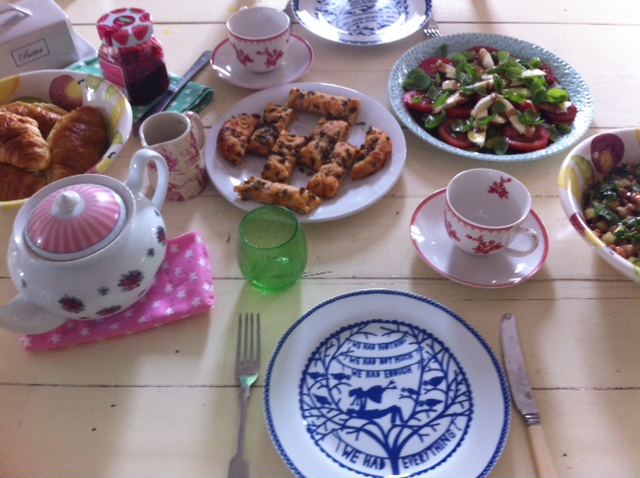 There is no getting away from it, home entertaining is extra hard when there's children about and then there's the stress! Well for me there's the stress because I'm just that kind of person and can't help it but I just feel the stress and go ahead anyway.
I shake the cups and make mistakes and open the fridge ten times in a row and wonder what I'm looking for and get flushed and dash about and waves my arms in the air and talk too fast and keep going, just keep putting the food out and filling the glasses and the guests don't care because 1. They're probably used to me, and 2. Being the guest is supremely relaxing and great which I know because being an entertainer you also get to be the guest and that's a worthwhile trade off.
So back to my week and for lunch on Wednesday I'd invited my new, getting less new friend Kerry over for lunch. She doesn't live far from here but we only met for the first time through the blog. If the blog goes belly up it will have been worth it for finding people like Kerry and I can't stress that enough. One of the best things about the blogging experience has been the people I've met and clicked with. This was her first time at my house and I was going to be childless for a few hours which meant the house was quiet and we could really talk, so plenty to look forward to.
On the menu…
Nigella's, frankly amazing 'Squid Salad with Lime, Coriander, Mint & Mizuna' (I used regular salad and prawns instead). A Middle Eastern 'Fattoush' or bread salad with a Garlic & Coriander dressing and no bread because we had fresh baked soda bread made by Adrian which was absolutely delicious instead & lashings and lashings, channeling Enid Blyton, not of lemonade but equally summery & yummy Prosecco.
For the table, I love dressing a table, I cut a few sprigs of wild roses from the bottom of the garden to make this cute teapot arrangement…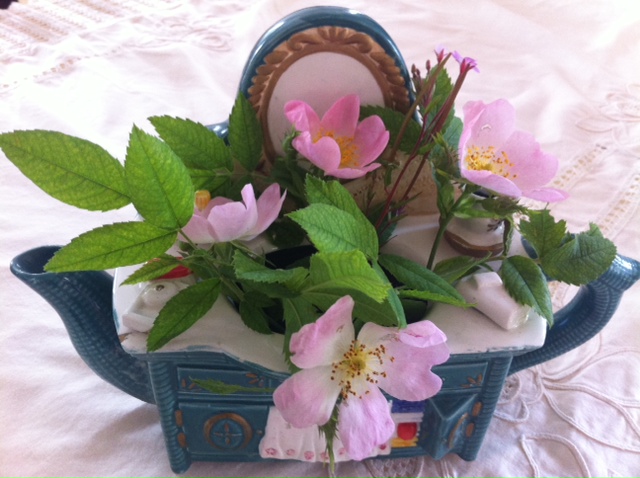 My table mats and green tea light holders are a recent buy from Penney's. The green glasses and champagne saucers are from TK Maxx. The saucer in the middle is from Avoca, the antique saucers under the candle holders are from a local market and my large plates came from a seconds shop in Dublin (about sixteen years ago), the snow globe I don't remember where it came from. My linen napkins and 'cat' napkin rings are from  a few years ago in 'Vobe', Carrick on Shannon and the vintage embroidered table cloth was a wedding present.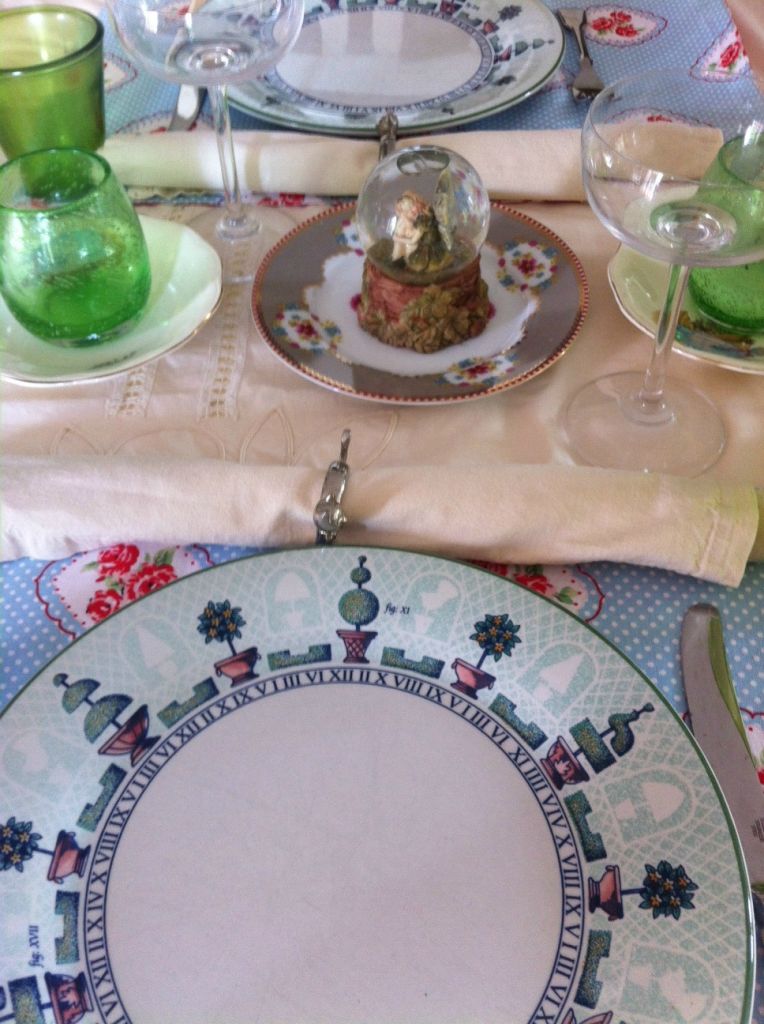 We had the best time, such such fun and who wouldn't enjoy putting this together or sitting down here to eat and drink and chat? No? Yes? I would do this anytime, anywhere. It doesn't have to be in a restaurant. Just as good is a field, the bog, the woods, at home… in someone else's home…just that list, the possibilities! Are you feeling it? If so you understand me, you get it.
It's the pictures, the possibilities that pop in my head, the colour, the company, the décor, and the tastes…any taste. Doesn't have to be high end fancy, a slice of toast always looks good to me as a steak. It's the whimsy, the sense of occasion out of nothing, the planning and excitement, the making special of an ordinary day and that after all is something that I like to do. Make everyday special.
And that's it really isn't it, there is no secret. I'm no great cook or hostess. I entertain because I need colour much as air. I like to make a fuss of people and it brings a lot of what I love together, good food, good company, good conversation and an excuse to just enjoy life and make things much more muchier.
On that note have a great Sunday. I'm not entertaining or being entertained today but be assured I'm planning something lovely : )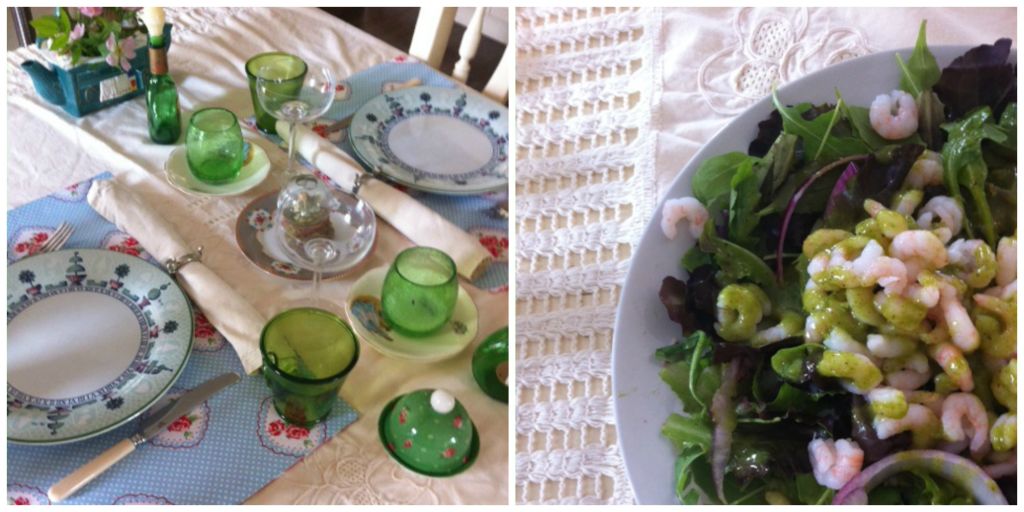 To visit 'The Oarsman' click HERE
To visit 'Vobe Interiors' click HERE
For Nigella's amazing recipe click HERE
---
---