Welcome…
I'm Jane (Gilheaney) Barry, I'm a writer and I'm passionate about creativity, beauty, and living life to the full.
Since 2012 when I started this blog I've been on an incredible journey. I've written my first novel, currently at editing stage. I started painting last year, and I learned to drive, finally! 
In the past I've been a Fashion Model, a Student, a Single Parent, a Student again and then a PR before starting my own PR Consultancy Business. I specialised in Arts, Tourism, SME start ups, Business Mentoring, Peace Building and Community Development. I also worked as Producer and Creative Director of a successful Traditional Performing Arts Company I founded along with my siblings for eleven years.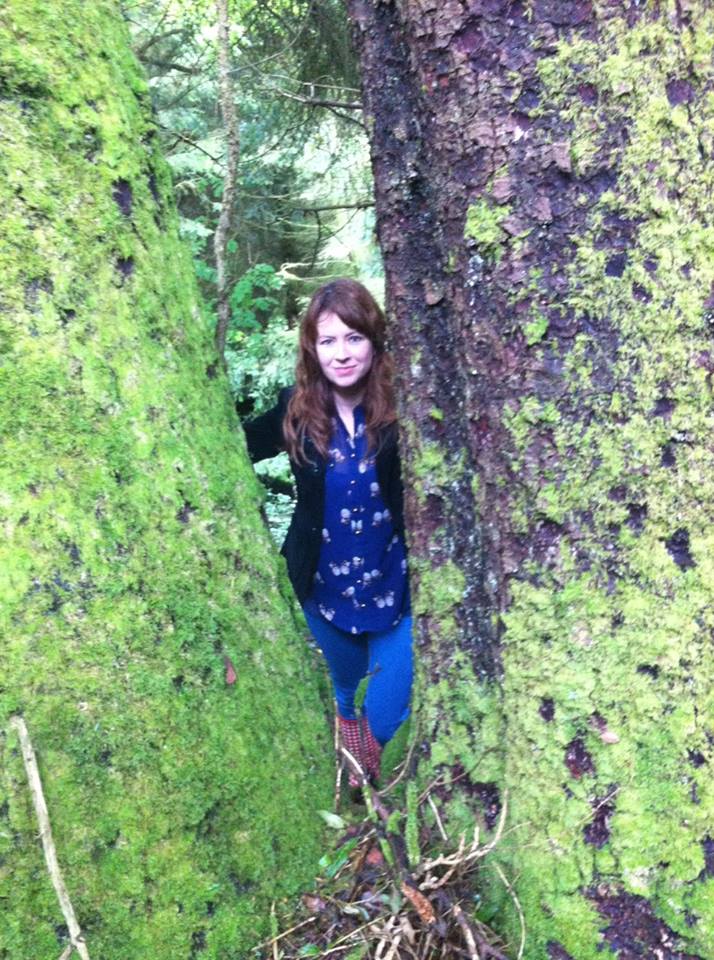 Our Family…
I'm married to Adrian, he's a farmer, financial administrator and boxing coach with a passion for the land, for politics and for me of course! We have three daughters and live in the rugged North West of Ireland, very rural, wild and green.
We grow some of our own food and have just started permaculture. We have dreams of self-sufficiency and are passionate about sustainable living. We love good food, wine, cooking and entertaining.
Before settling back here I spent some years living, studying and working in Dublin (media/pr/community development) as well as seeing a bit of the world. I'm a country girl born, but I love cities. Dublin in particular holds a special place in my heart.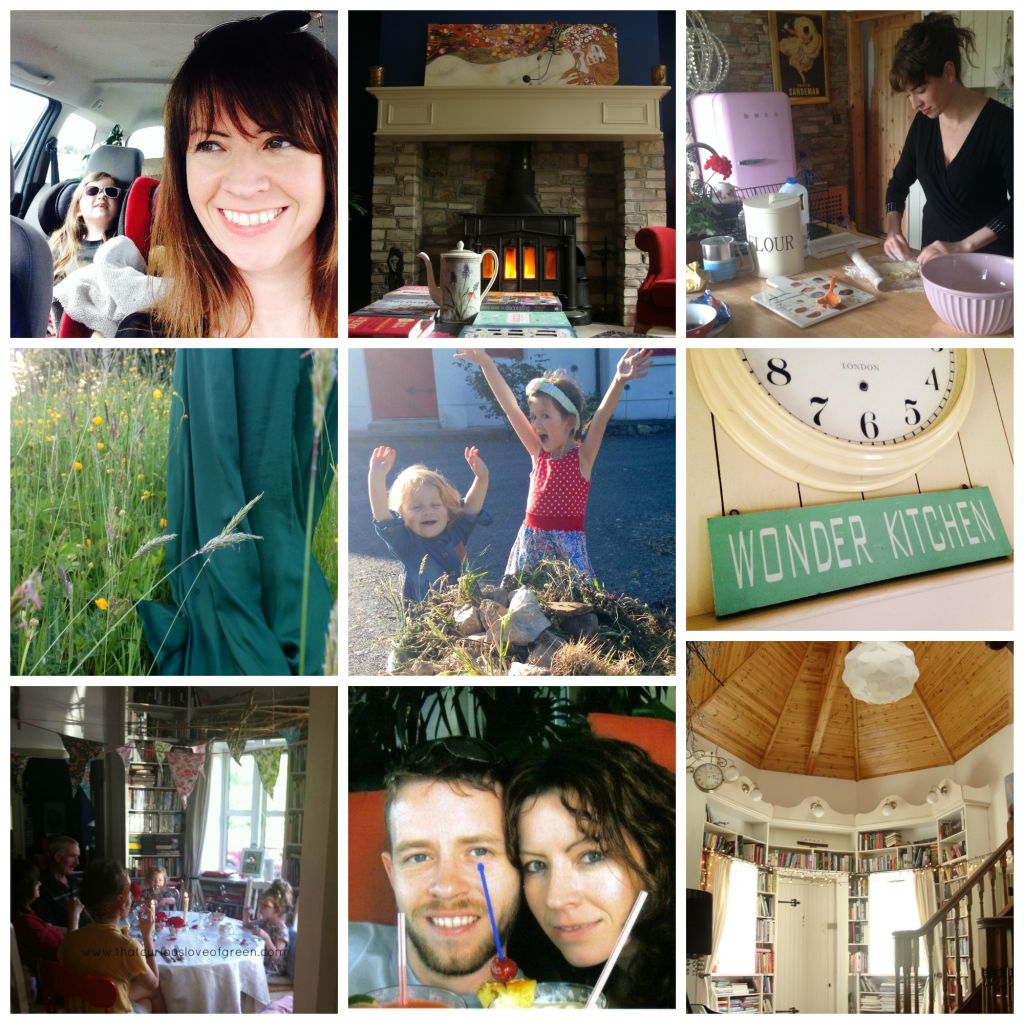 Here in lovely Leitrim we designed and built our dream home.
The house is a canvas, a muse, it inspires me. I enjoy decorating, vignetting, photographing and sketching it. It's like an extension of whatever it is I'm dreaming in the moment. I spend a lot of time here…and a lot of time outdooors. We've a one acre garden and small farm on the Sliabh an Iarainn mountain.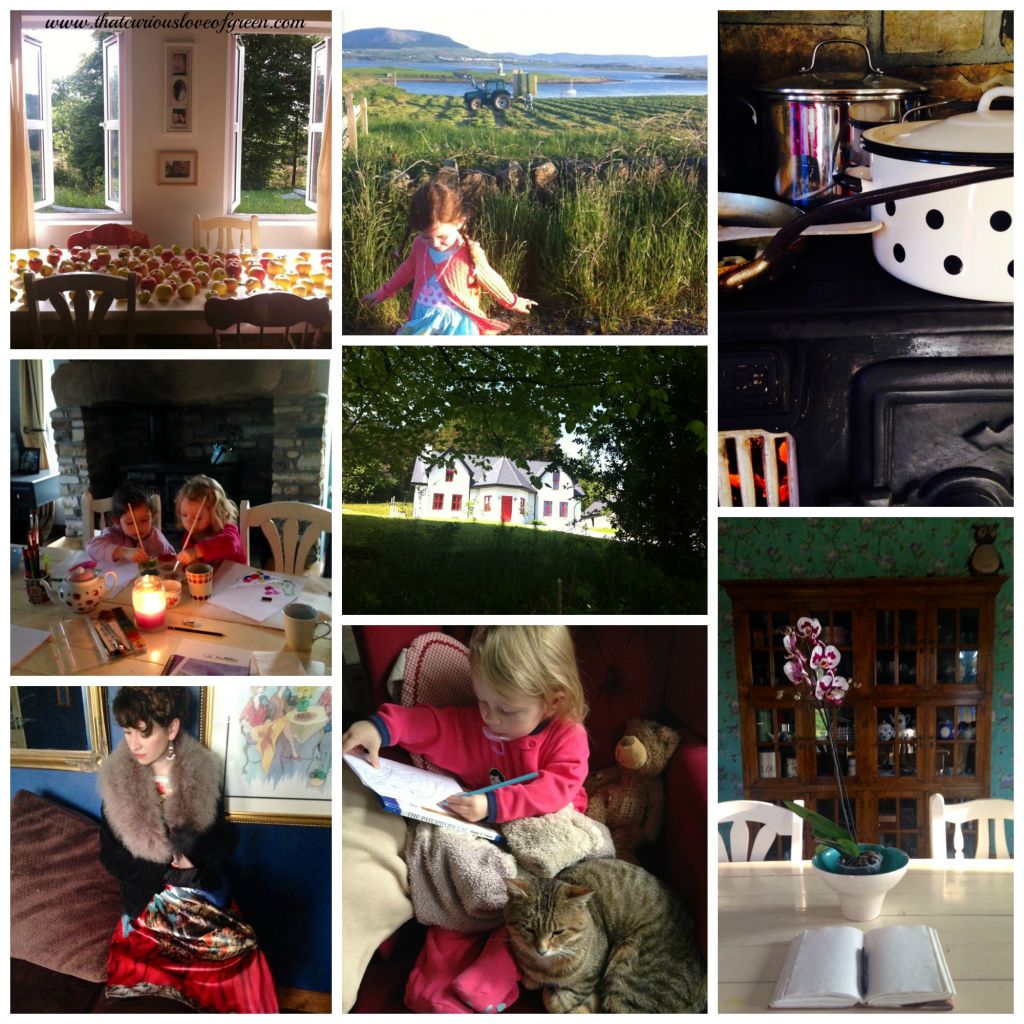 I've learned that everyday creativity, the practice of seemingly simple things like writing or painting or whatever it is you really want to do or used to love as a child, has real magic in it, the power to make you happy, in what feels disproportionate to the action itself.
I would wish for everyone to experience this, because it's possible, it's free, and it affects everyone and everything else in your life in such a positive way. 
It's not easy to get past ourselves, past our 'blocks'. I'm very motivated and I still struggle with this sometimes but I also know from experience it's worth the effort and the rewards are great.
What else? Oh yes, because life is short but it's never too late, unless you've decided that it is.
As for me, after 39 years I finally made a firm commitment to creativity and made it central in my life. Even as a tiny child knew I was a writer, an artist in my soul. I knew it but I wasn't really doing anything conscious with it like 'actual' writing for example.
It came through in everyday life, how I dressed myself, my home, my thoughts and my work even in how much of an alien I felt, like there was no one in the world like me, but there was a distinct lack of conscious creation and the problem was I didn't know how to do that. I had no frame of reference, no experience, just a deep, couldn't explain it, restless, knowing.
I was me but not a fully realised me.
So what changed? What enabled me to make the move to conscious creation, to 'actual' writing every day, to blogging and painting, to writing a novel? All within two years?
Well following a hard time in my life, illness and medical trauma, I lost myself. I was determined to get back but I wasn't sure how I could do it. Through it all my Dad was always saying 'Jane, you should be writing.'
I'd been writing for work but not 'creatively' since my school days. I tried, it wasn't pretty. But I realised how could it be? I wasn't getting any practice!!! That should be a sensible thought right? And yet I think that's what puts us off is not being great or even good from the start.
So now I'm a writer because a writer writes and can't help it, can't stop, and that's what I do.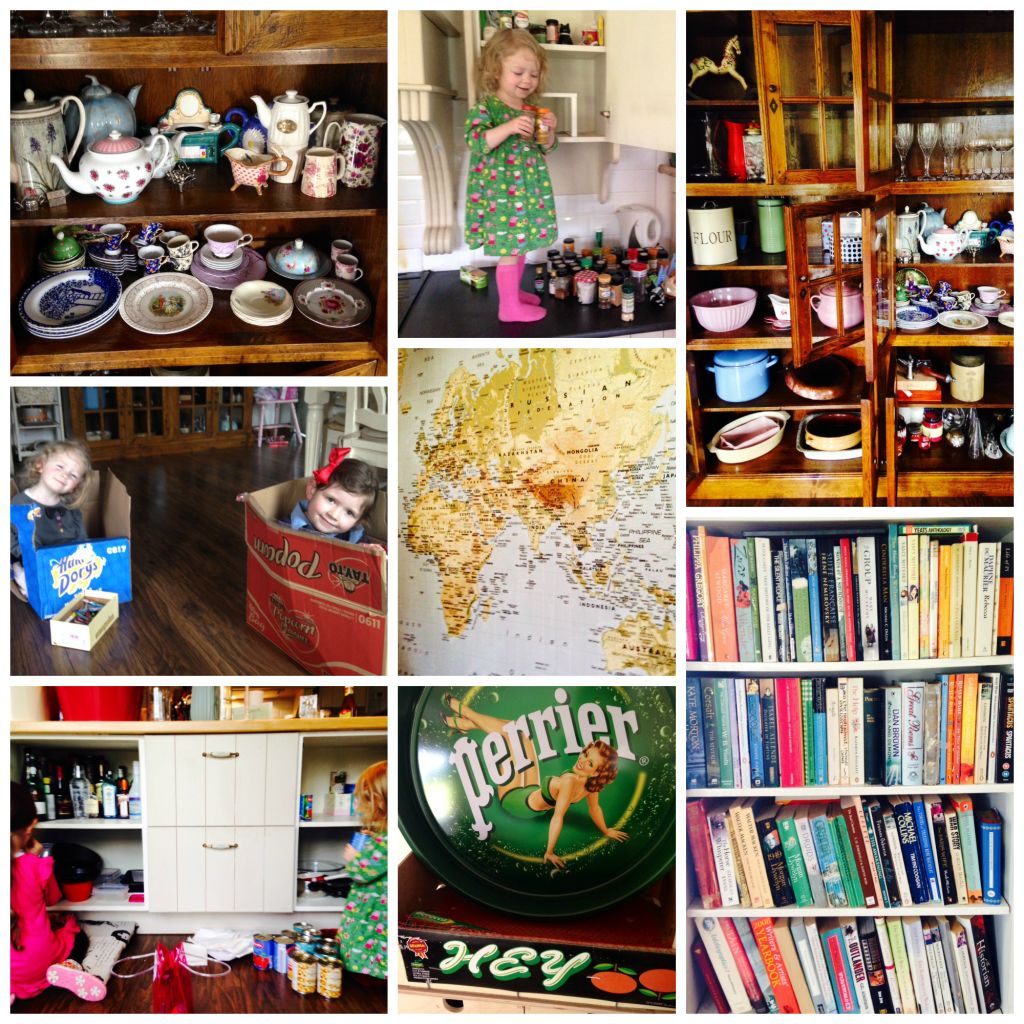 I started this blog to explore my creativity, as an adventure, to see where it would lead me. I hoped it might one day lead me to writing that novel I knew I had in me.
Best – decision – ever!!!
I discovered too that writing is healing, theraputic, transformative, it has the power to transform your life. And, if your're being honest and clear in your writing you learn the value of being open, for how it helps you and other people.
We all have our worries and fears it's our passions that make us interesting, they're worth finding, nurturing, commitment and work. As Ken Robinson said…
'Our creativity is like many other natural resources, buried deep.' 
I don't see any limits for anyone and I believe we design our own lives. For me, my life is getting better, more exciting and more satisfying with every passing year. 
x0 Jane
For daily updates plus shots of beauty, colour and inspiration follow That Curious Love of Green on Facebook HERE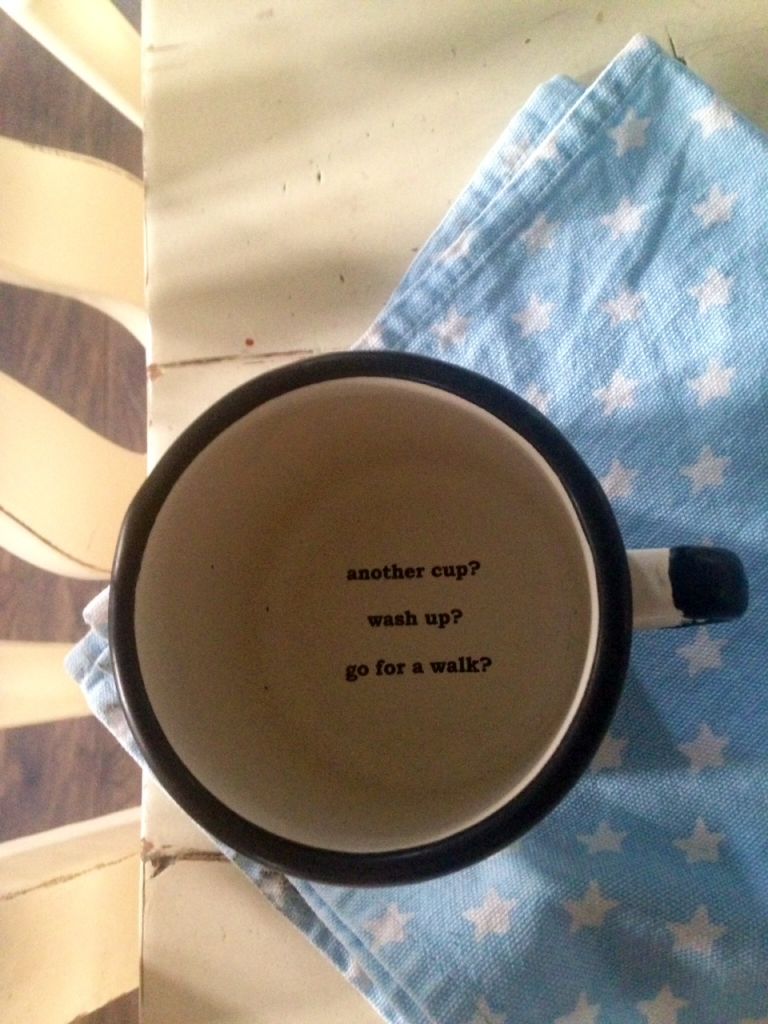 Some of Your Letters…
Hi Jane,
Met you briefly at the organic centre a few months ago and have been following your blog ever since. I love your random dips into fashion, culture, food, education and society- its benefits and ills. Some days you make me laugh, others I smile or even cry. Anyway, I saw the following piece elsewhere yesterday and thought of you. It's what I love most about your blog – your CREATIVITY – Hope you like it. Thanks for the elements of grace and beauty you bring to everyday life… it reminds me to LIVE life. Marian x
……
Jane
Just had to drop you a line. I have been following you for a bit now and the images, quotes, poems, etc you post never fail to bring a smile to my face. Thank you for sending out kindness and beauty. It's appreciated. Elizabeth
……
Dear Jane, Keep up the fab work. Without sounding like a fruit cake you have inspired me. I have taken out my old box of watercolours, and promised the kids we will paint this evening. I used to be creative but bar cooking have forgotten that side if me. Aisling.
…
Dear Jane adore your blog, the poetry and images the food and shopping lists can so relate.. Think you create a very special presence and the whole tone and depth of your postings is so very beautiful and meaningful..and utterly smart and not at all flimsey, fluffy or wish washy. I applaud what you do your courage and intellect. From another sensitive, witchy fearsome do absolutely her own thing always soul. Just wanted to show you support and urge you on, for you to know what you do is very special wonderful work, with kindest regards Maria..