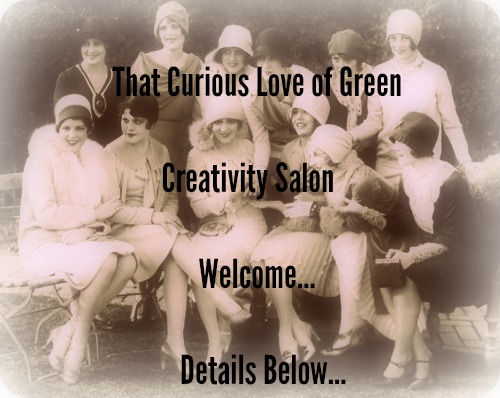 That Curious Love of Green 'Creativity Salon'
A Global Creative Community… Established in 2015
Is Now OPEN to NEW Members…
Two steps to join… 1. Sign up to my mailing list here on the blog. 2. Request to join our closed group on FB. NOTE: Be sure to sign up the blog mailing list first as requests to join will be checked against that list.
My next FREE 'Creativity Bootcamp' will take place from March 1st t0 14th, 2017. What is the aim of the bootcamp and year round salon?…
To Address the layers of creative doubt and loneliness that comes of being a creative person through open discussion and support in a members only environment.
Unblock and start creating, build and sustain creative practice in your life, share process, thoughts, knowledge and expertise, make friendships.
If you are creative this is your tribe, like-minded people who know what you go through to be creative. Artists supporting other artists, sharing the benefit of their experience and keeping each other to the task. An online Bloomsbury set if you will.
Creative souls seeking inspiration, support, understanding, healing, encouragement, motivation and freedom, find it here…
A greater opportunity of not just tapping into but of realising your true creative potential.
Suitable for ALL creative people, beginners, professionals, those who haven't started painting or writing yet but want to! We need everyone, helpers, learners, inspirers, thinkers, teachers, and dreamers….
Salon members work at their own pace and are not obliged to take part in the bootcamps. But if you do decide to participate in bootcamp what are you agreeing to?…
. Keep a journal/diary for the two weeks, writing everyday.
. Do one or more other creative actions, writing, photography, craft, drawing, painting, you decide. But somethng you wouldn't normally do.
. Share something of that work in the closed fb group. You can share the work or just talk about the process, how you're finding it. Ideally you should engage with, encourage and support other participants as they will do the same for you.
WHAT CAN YOU EXPECT? To change your life radically, irrevocably for the better. But don't take my word for it, here are some testimonials from past participants, most of whom are still members today…
'This is a fabulous experience! I've been here since the October bootcamp and have no intention of leaving. I've found support, inspiration, and affirmation…as well as a bunch of new friends who I wouldn't trade for anything!' – Kim Smith, Tennessee, U.S
…
'This is an exceptional place to share your hopes and dreams for a creative future!! It is such a safe and welcoming group. I have been here since the October creative Bootcamp and it has been such a wonderful experience!! Everyone in the group had fears and reservations about sharing their innermost creative dreams, but once you say 'the words and soak up the warmth and encouragement you will feel like you can achieve anything!! Please if you can just give it a try, you won't be disappointed!!!' – Michelle Bermingham
…
"This has been a pivotal experience in my life. I'd put away the creative part of myself for so long, only using in cases where I could blend it with something that could be deemed productive. It is like a part of me has reawakened. Creativity itself is productive, we are here to create the life we want.
The group is such a wonderful collection of expressive, compassionate, encouraging and endearing souls. If you are looking for a place to be brave, this is it." – Melissa Steffy
…
"The Creativity Bootcamp has been a key to re-start the stalled Artist inside my heart – I'm already loving the Salon and can't wait to see what this next year will bring! Encouragement, inspiration, and beauty on all sides… I think this was exactly what I've been needing for years, without knowing I needed it. Onward and upward!!' – Jules Sevenky, Kentucky, US
…
'I totally recommend this for any creative individual. I did the bootcamp. I am overjoyed I did, it has led to so many sparks of inspiration, new friendship, fun and advice. I am a blogger and the writing tips I have garnered have been amazing. I write confidently from the soul now.' – Kathryn O'Sullivan
…
"Where to start? The October Bootcamp gave me focus. Daily accountable focus to do something I'd wanted for so long. The way everyone interacted, sparking off new ways of looking at old ideas has been, and I know this sounds cliched, a huge wake up call. I've always created but lacked the discipline to do it every day."
To integrate my personal path of creativity into my everyday life until I was just 'doing' it with almost every breath seemed an impossible thing. Now not a moment goes by where I don't ponder my next step.
They say it takes 6 months to retrain the brain into new habits and I feel a good measure along that path already. The Salon is the natural extension of the Bootcamp. A comfortable home to venture into after a day of mundanities. Where one can get sit down and talk about what ideas have cropped up, how best to express oneself and feel like you've plonked down into a comfortable chair to talk with those who just 'understand' and embrace your creativity." – Tig Beswick, Canberra, Australia
"The first bootcamp was my greatest gift of 2015 –it deepened my creative practice, led me into my long-lost tribe, connected me to my kindred spirits, and helped me deal with the plagues of pursuing a creative life — the doubts, fears, guilt, and anger, to name a few.
If you have ever wondered and looked for a safe but productive place for your inner artist, then consider participating in the 2nd Creativity Bootcamp in February.
It doesn't matter whether that inner artist is a seed, a sprout, a shaky shrub, or a full-grown tree — the bootcamp will help you with what you need at your particular creative stage.
I was a misshapen bonsai, but now I am definitely something else that grows in a magical forest." – Marichit Garcia, Artist at Ink & Water, Pasig, Philippines.
ABOUT YOUR HOST… Jane Gilheaney Barry is a writer, a former model, pr consultant, and creativity expert. She lives in Ireland's wild west with her husband and three children. What motivates Jane is an inner force and desire for beauty. Jane wants as many people as possible to experience what she has through embracing their creativity. She has just finished a novel, a dark fairytale of strong women inspired by the local landscape. She has also completed a book on creativity 'That Curious Love of Green – A Complete Coming Out Guide for Creatives In Hiding' which will be available for pre-order on amazon soon. For a complete bio please refer to her 'About Me' section on the blog.