Miskawn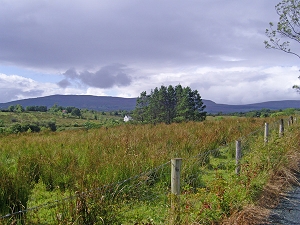 To get to Miskawn you go up.  The house of my grandparent's held its back to the mountain while fields in front swept down. We loved to run those fields, a blur of daffodils, rushes and hay bales, usually with cousins.  Our heads pounding, our feet barely touched the ground, we got such speed we couldn't stop!  What a feeling that was, flying from the mountain top! Walking back up was such a drag, the house seemed miles away…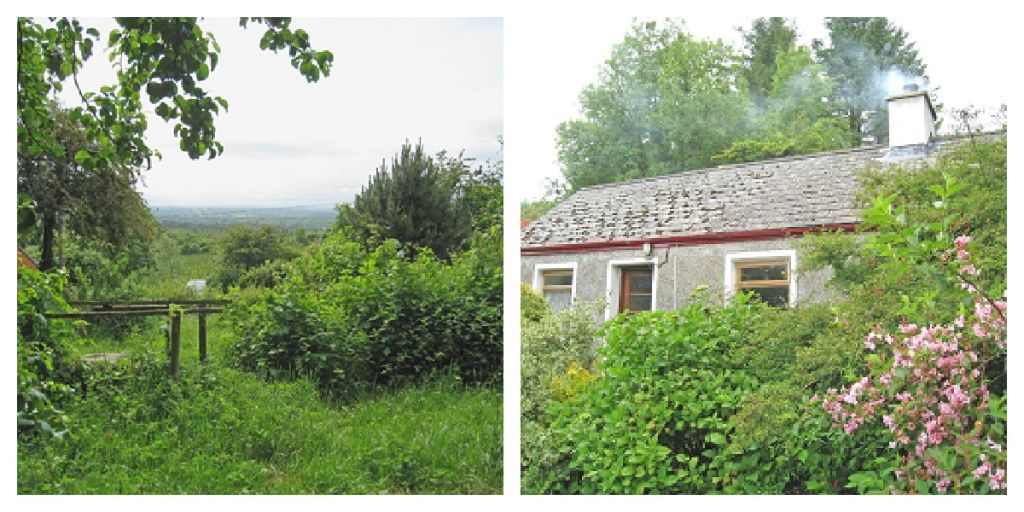 You could sense your future from that high point, a whole world out there but here time moved slowly or didn't move at all.
Nanny talked. Banshees, curses on cattle, bad luck and changelings, TB and the young people lost, like one girl and boy, neighbours she said. They'd walked this lane together while they were able.  Here the world started and ended for them.  I imagined it often, think of them still.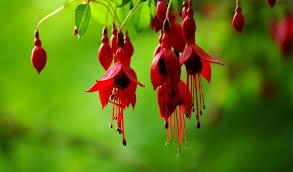 The lane was so quiet, framed in briars, yellow whins and the fuchsias she'd planted the mountain with followed the lane as it twisted this way and that.  There used to be nine or was it fourteen families living on it but they were all gone now, dead or to America she said.  Some of their house walls were standing still, moss covered white washed stones, in boggy fields with cool dark hedges closing in made you think of the people who'd carried and built, whitewashed and lived within.
The colours and textures, the scents of Miskawn permeated your soul, stole under your skin, an impossible landscape of bog and mountain blue, of coal pit black and forestry, of matted brown and rushy green.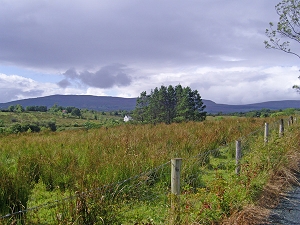 Tom worked.  In the warm, sweet dark of the byre he helped a new born calf to stand.  We'd walk with cows over the lane, Red Rum was one.  There was fetching water, baby chicks & the cousins you laughed with and not forgetting the soda bread & waiting for the baler or travelling shop, the arrival of a visitor, the ticking of the mantel clock.
At night you'd see the lights of town twinkling in the distance.  All around, the forest, the mountain and the dark felt close and thick, wild and frightening too but in my grandparents house the brown, yellow faced clock ticked and tocked while the range burned. Nanny folded her lovely hands and Tom laughed easy from his chair while bran and smudge lowered their heads and sighed with pleasure and we all sank easy in the glow.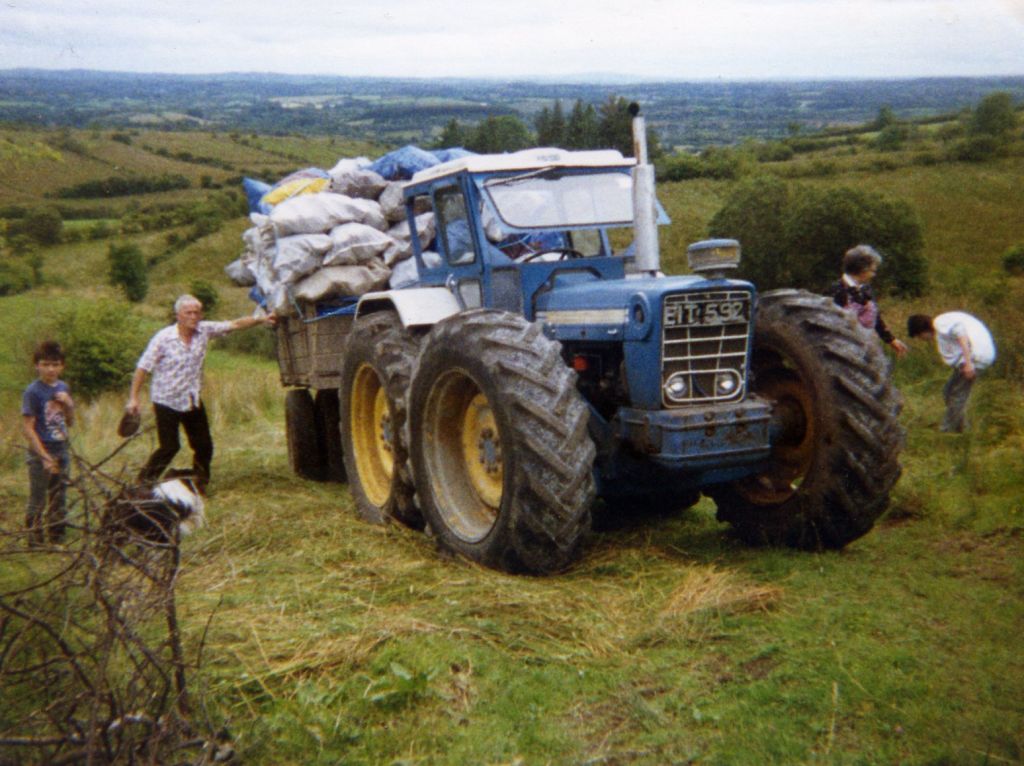 So these are some impressions of time spent as a child with my fathers parents in Miskawn, Aughnasheelin.  Some of these days I'll write memories of my mothers home in Corraleehan, a very different place!
But now dear readers it's over to you, yes you!  In honour of blog 'delurking' week I'm asking my readers to leave a comment, especially if you've never done it before!  Just because you're not saying anything doesn't mean I don't know you're there! I happen to have an excellent stats counter that happily keeps heading skywards and I always wonder what you're thinking.  You can make someone's day i.e. mine and tell me what you like or love. If that's too much just check in and say hello to me, how you found me, that you like it here perhaps!
Happy Sunday everyone, chat to you during the week…
---
---